The Challenge
It is unfortunate but in todays digital world every business no matter on size, sector or location is vulnerable to cyber attacks, therefore putting layers of protection in place backed by some sensible policies will make sure you are not the easy target, however there is a fine line between the right level of protection and becoming over protective and implementing 'business disablers', after all we all still need to be able to do our work and keep our customers happy while being as secure as possible.
The Solution
Using NJC to implement Cyber Essentials will offer you a good level of protection and ensure you are not the easy target, this can be done in a very cost effective manor, we will work with your existing in house IT or your external provider to secure your systems and network and obtain your certification, having an objective third party outside audit of your systems will provide you the level of confidence you require in your cyber attack protection.
Why use us?
Since 2002 NJC have been providing Managed IT services to companies of all sizes, in 2017 we made a decision to move into the Cyber Security side of IT after 15 years of providing sensible security to our customers and never having a security breach we would like to share our experience and best practice with everyone.
What we do differently
We are always looking to be different from others, providing extra value to our customers, if you use our services to provide you with Cyber Essentials you will receive regular updates on issues that could affect you, we will also let your IT people know of any new threats and advise on how to add protection for your systems, we believe this to be invaluable to ensuring you stay protected in an ever changing world.
A major area of any Cyber defence is the human element, you will be given early access to training events and material provided by us to ensure you keep your human side of cyber protection fully informed and trained on sporting potential issues before they arise, and when they do happen knowing how to respond to limit the impact on the business.
The Benefits of a Cyber Essentials Certification
Show commitment to security
Demonstrate to your business partners, regulators and suppliers that you take cyber security seriously
To win public sector work
It is mandatory for government suppliers
Competitive advantage
Reassure customers that you are working to secure your IT against cyber attack
Safeguard commercially sensitive data
Cyber criminals target companies with high value data
Attract new business
Attract new business with the promise you have cyber security measures in place
Gain independently verified accreditation
from experts in cyber security
Protect your company's profits and reputation
by avoiding the financial disaster and negative publicity associated with a cyber attack
Clear system view
You have a clear picture of your organisation's cyber security level
Why did hackers target us?
because you were vulnerable!
Hackers go for the easy targets, and then use the information gained to create more targeted attacks.
A simple 5 step approach
Implementing our 5 points of protection will mitigate up to 80% of attacks
Of Breaches are due to weak or stolen passwords
of businesses have a formal policy that covers cyber security risks
of businesses have spent money on their cyber security, most of it after a breach!
of breaches are related to staff receiving fraudulent emails
The 5 Steps to Cyber Protection
Firewall
Configuring your firewall correctly, ensuring there are no unused rules configured, ensuring that default the password has been changed and that external management is either restricted or disabled, further more it is highly recommended that a firewall is used on any public Wi-Fi Network connection.
User Access Control
It is essential that you identify all the data sources you have and then apply User Access controls so that the data is only accessible by those that need it.
Secure Client Configuration
Ensuring that all systems have passwords, guest accounts are disabled and having a password policy
Virus and Malware Protection
Implementing protection against Malware seems obvious but many people miss this, you need a multi layer approach, Anti-Virus protection updated and active and browser protection stopping downloads from running without warning
Patch Management
Ensure that phones, tablets, laptops and computers in your organisation are kept up to date at all times and that operating systems along with software applications are not vulnerable to known security issues by installing any updates available without delay.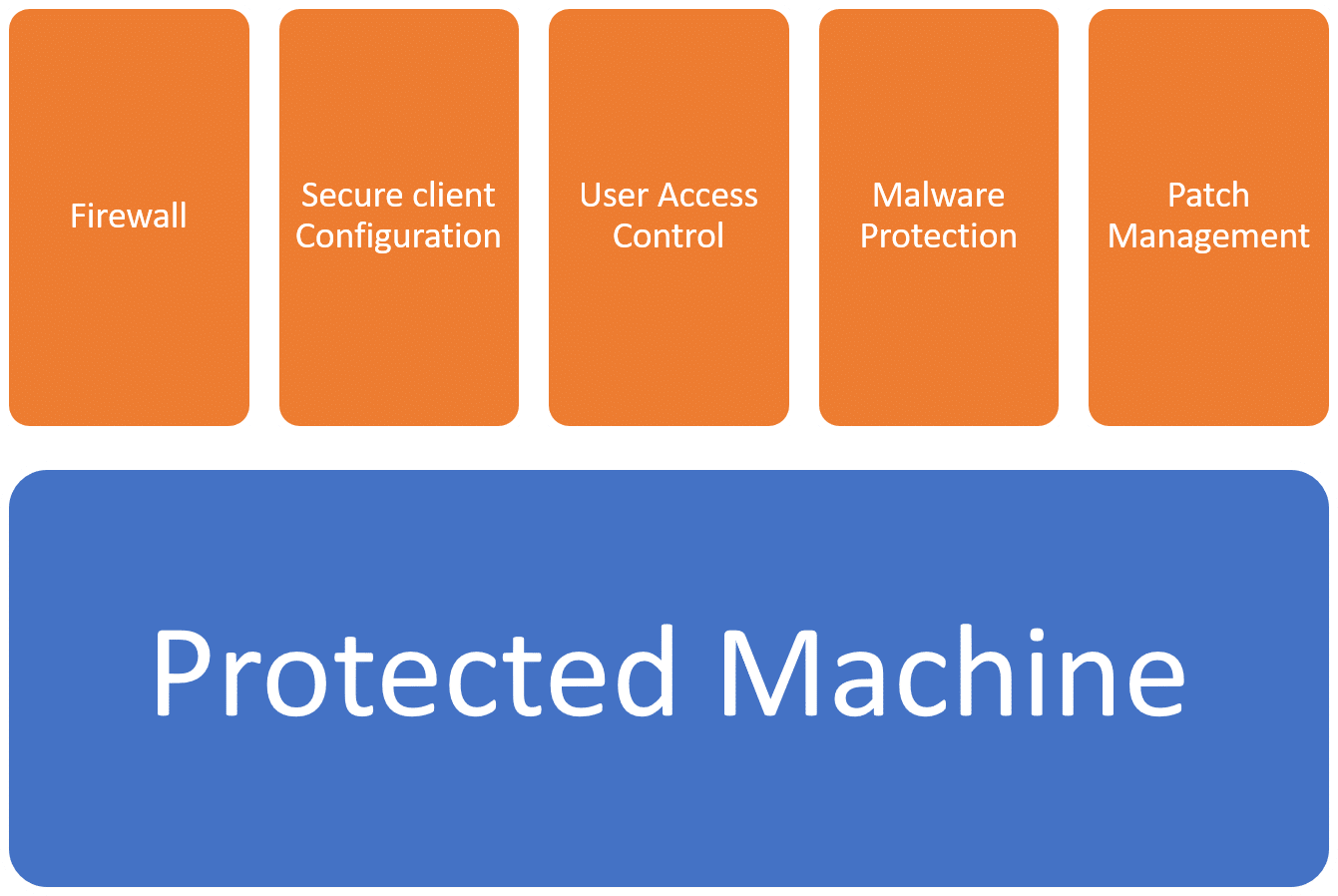 Our experience is that most businesses have these steps in place already, some are better than others but formalising these as part of your Cyber Policy will provide a better level of protection.
The most common types of breaches
This highlights how, as well as having good technical measures in place, the awareness and vigilance of all staff are important to a business's cyber security.
staff receiving fraudulent emails

72%

72%

viruses, spyware and malware

33%

33%

people impersonating the organisation in emails

27%

27%

Ransomware

17%

17%
We've Rethought Cyber Security
Whether you have a specific requirement,
a question you'd like answered or would just
like an informal chat, contact us.